Welcome!
Located in Tiverton, Rhode Island, Lindsey's studio is just one mile away from the historic Tiverton Four Corners. If you are interested in purchasing work, you can shop right here from the online store! 
Shop Now
Dahlia Season is Here!
Bouquets available to order
Dahlias are now here! Each bouquet is cut just for you to ensure the longest possible vase life and the best quality flowers. Place your order at least one day in advance and your flowers will be ready for pickup on your selected date.
Stay tuned for an announcement on the upcoming fall events at the studio!
VISIT THE STUDIO THIS FALL!
Celebrate the magic of dahlias this fall!
Sept. 30 - Oct. 1st & Oct. 7 - 8, 2023 10:00am-4:00pm
This open studio event will feature new crystalline pieces, the famous Seconds Sale and a celebration of dahlias. Weather permitting, the fields will be open for visiting. At 1:00 each day, I will also be offering some dahlia talks. Topics will include: growing, pruning, tips for cutting, digging and dividing. More information coming soon!
Tableware
From your daily coffee mug to a customized dinner set, Lindsey enjoys creating pieces to enhance your daily life. Made from high quality stoneware, the pieces are durable for daily use and are microwave and dishwasher safe.
Raku Sculpture
Lindsey's raku horse sculptures are handcrafted to capture the movement, strength and beauty of horses. Each one is made individually and raku fired one at a time giving each horse its own unique character.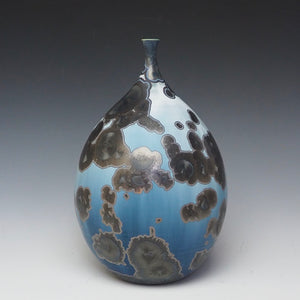 Crystalline
If you're looking for a statement piece in your home, Lindsey's crystalline glazed porcelain is a perfect solution. Zinc crystals grow on the piece during the firing process due to the glaze chemistry and firing technique.
Customer Reviews
This is such a beautiful color, I love it so much. I wanted to replace a different berry bowl that I broke, and I didn't think I could find one I liked as much, but this is it! Thank you so much for a wonderful product. It was extremely well packed and came very quickly. I am SO happy I purchased it.

Margaret
Not only did the item ship quickly, the seller was able to give me a small refund because she was able to get a cheaper than expected rate for shipping! The colors are vibrant and beautiful, and it feels well made.

Taylor
My second piece from this seller! She is extremely talented and makes sure your pueces are perfect before sending! She has now done two custom designs for me and I'm so grateful! They are exactly what I wanted and I look forward to obtaining more of her pieces in the future!

Jennifer